1. Rage Against The Machine
Reading Festival, August 2008
RAGE were one of those bands that I never thought I'd get to see play live. Zach De La Roche quit the band in October 2000, when I was 15 years old. Unfortunately for me I started to get into the band when I was 16. Their self-titled debut quickly became one of my favourites; working out my teenage angst to the band's raw and passionate funk-metal.
When the band reunited in the summer of 2007 for a special, one-off performance at Coachella I was green with envy. I would have loved to have been there, but a plane ticket to Indio, California just couldn't be justified on a student budget. So, when the announcement that the band would be playing this year's Reading Festival it was an opportunity I couldn't turn down.
Despite the £75-a-pop price tag, the day tickets sold like hot cakes (I'm pretty sure they were all gone within 30mins of being on sale). Having been one of the lucky few to get my hands on a ticket I was ecstatic about finally going to see my teenage idols whip up the crowd one more time.
So, the amount of anticipation surrounding this concert was immense. Arriving on site at mid-day and taking it easy for the majority of the time, we got into the "golden circle" of the main stage crowd, and stayed there through the piss-poor efforts from The Enemy and The Fratellies, and was thoroughly warmed up by the superb Queens of the Stone Age set (more on that later), until it was time for the main act to take the stage.
Walking on stage in Guantanamo Bay jumpsuits, the band proceeded to play the blistering opening track "Bombtrack" completely blindfolded with black sacks over their heads. By the beginning of the second song the band had relieved themselves of their prisoner apparel, and launched into the rest of the set.
The next hour and a half was one of the most euphoric, passionate and energetic sets I have ever witnessed. Breaking away from the crush of the crowd, I managed to get involved in the crowd's circle pits, something I hadn't done for years, and fully lived out my teenage dream. As Rage rattled through superb renditions of tracks such as Testify, Guerilla Radio, Sleep Now In The Fire, People of the Sun, Bulls on Parade and Bullet In The Head, the crowd was whipped into an absolute frenzy; Tom Morello pulling out craziest guitar solos I think I've ever seen and Zach De La Roch bouncing around the stage, as energetic as passionate as a 20 year old, and still as determined to change the world.
Ending their greatest hits set with a predictable, but very welcome final dance of "Killing In The Name" the crowd was fired up for battle, especially after Roch's awe inspiring speech during the middle of "Wake Up" (see video below - fast forward to 5:12 - I know it does look a bit cringe-worthingly metal-head lads night out, but when you're there it's a different story).
The whole event was absolutely insane.
I had a wake up call to how nuts the Reading Festival crowd is capable of getting, and had my high expectations exceeded by a band who's records I had worshiped for years. Mind blowing.
2. Radiohead
Victoria Park, London, June 2008
Radiohead have been a very special band to me. They opened my eyes to a new world of music when I first saw them headlining Glastonbury Festival 2003, on the night of my 18th birthday. I hadn't seen them live since that night 5 years previously, and my expectations were high.
With the price tag for the tickets being a painful £45, I was unable to find like-minded friends who were willing to part with their hard earned cash to join me in seeing them when they took their In Rainbows tour to Victoria Park. So, heading off on my own, and was thankfully able to get pretty close to the stage, the whole event was pretty surreal - being in a crowd of several thousand people, and not knowing one of them.
The set list was beautiful. Borrowing heavily from their superb In Rainbows album, whilst scattering the rest of the set with hits and little treats (including Thom Yorke playing a mini-drum kit on "Bangers & Mash" and whipping out "The Bends" to start off the encore). Two things I would say, is that the crowd were pretty unresponsive, often leaving me feeling idiotic for dancing to songs such as National Anthem, Everything In Its Right Place, and Idieoteque - songs that you REALLY would have thought would get the crowd dancing. Also, I missed out on hearing he band play Pyramid Song and How To Disappear Completely (two of my favourites) that they had played during their previous London night.
However, moments such the sing-along ecstasy of No Surprises, the beautiful renditions of Nude and Videotape, the fantastic light show, and the burst of energy from the crowd that came forward for Paranoid Android totally made up for it.
What a perfect way to spend a summers evening on your own.
(oh yeah, and Radiohead really need to sort out their grammer!)
(and I threw this clip of Thom playing drums for Bangers and Mash in Amsterdam in for good measure, and because he's wearing flying goggles)
3. The Irrepressibles
Latitude Festival, Suffolk, July 2008
I was lucky enough to catch two performances from the criminally under-recognized Irrepressibles at this year's Latitude Festival. One in a woodland at dusk, and one by a lake in the mid-day sun, and both just as beautiful. Jamie McDermott's voice has the power to cut straight to the heart, and the theatrical spectacle of their live performances makes you realize just how special this band are.
4. Lucky Dragons
Upset The Rhythm, The Luminaire, London, October 2008
Many thanks to Emma Roach for giving me tickets to Upset The Rhythm's London night at the Lumminaire a few months ago. It was a gift that has inspired me ever since.
You don't just witness a Lucky Dragons show, you are very much part of a Lucky Dragons show. This Californian two-man band consists souly of sound toys and laptops. Their music is mainly ambient and experimental, but the process of how they make it is centred around the spirit of togetherness and collaboration.
When the band starts to play they begin to lead to by example. Their main instrument is this box of tricks from which wires can be plugged into. The end of the wires are then handed to various members of the audience, enabling a small current of energy to be passed from the wire in to these chosen members of the audience. These audience members are then told to hold hands with the person next to them; sending the current of energy further, but also creating music as they touch. Soon a circle of seating audience members become the main accompanying instrument for the band. All seated, holding hands. As the audience members let go, or run their hands along each others hands and wrists different musical notes are created.
What results is a truly magical experience of feeling completely part of the music that's being created, but also feeling connected to other people in the audience (quite literally). The experience of sitting and holding two complete stranger's hands was very surreal, but totally engrosing. I have never experienced a concert anything like it.
Completely unexpected, but very spiritual, and actually pretty comforting. It's very easy to feel alone in this city, and it's moments like this that can make you feel part of something very special and important.
4. Barr
Upset The Rhythm, The Luminaire, London. October 2008
Another act on the Upset The Rhythm night was a guy called Barr. This spoken word poet/musician has one of the most infectious personalities I have ever experienced. Constantly talking to the audience, and just being over joyed at being able to do what he's doing was just amazing to see. Check out his awesome track "The Song Is The Single" below for a taster of his lyrical goodness.
5. Part of the Weekend Never Dies - Radio Soulwax (Soulwax and 2 Many DJs)
Royal Festival Hall, London, April 2008
It had been years since I'd seen Soulwax and 2 Many DJs in concert. They have been playing at pretty much every summer festival in the world for the past 2 years, resulting in me having a "I'll catch them next time" attitude towards them. What a fool I was, but how glad I was to have caught them THIS TIME.
Starting the evening off by premiering their fantastic "Part of the Weekend Never Dies" documentary to the concert audience was a genius step. This film (directed by Saam Farahmand) totally encapsulates what the Radio Soulwax touring circus is all about; the energy, the hedonism, the lack of sleep, the insane amount of work, and the fantastically good music. Radio Soulwax consists of 3 parts; a guest DJ who comperes the night, Soulwax (the live band), and 2 Many DJs (Soulwax's DJing alter-ego).
After spending an hour in the hall's main auditorium being built up to experience the party of a lifetime by watching the documentary, the whole crowd was raring to go when the auditorium's doors were flung open and a thumping bass-line came flooding in from the entrance hall outside.
The audience flocked downstairs to witness the Soulwax live experience. Consisting of a set of their own songs from their fantastic Night Versions album, and live versions of remixes they had done for other bands, the live show felt more like a DJ's turntables had grown arms and was playing instruments. There were no breaks between songs, with each song mixing into the other. This show was a non-stop party machine.
Once the live show had finished, those that were still standing continued the party dancing to the guest DJ (the name of which unfortunately escapes me), until 2 Many DJs returned to pound the audience's ears with their insanely good electro-clash mix up of modern leftfield anthems, and classic pop records.
It's hard to emphasize how good this show was. This is the pioneering band of the electro-clash, dance movement that has reshaped the musical landscape in recent years, playing a set that they had honed to perfection over the course of two years of non-stop touring, playing their final farewell song. AND the mash-up and DJing kings that are 2ManyDJs racking out a superb set that included a premiere of their insane remix of MGMT's "Kids" (video below).
Impressive stuff. PLEASE PLEASE check out their documentary "Part of the Weekend Never Dies", and if you missed them over the past few years for the same reason I nearly did. You will kick yourself so hard it hurts, especially when they'll be running away to the recording studio, and they'll be quite some time.
6. Joanna Newsom
Latitude Festival, Suffolk, July 2008
The Latitude Fesitval really is wonderful. Where-else can a lady with a harp and a piano perform to a crowd of thousands at 12am on a Sunday morning, and get absolute silence and respect from the audience members.
This hour-long set was absolutely magical, and it even seemed to overwhelm Miss Newsom herself. As she played the vast crowd just hung on absolutely every word. They say it's a festival for music lovers, and it really really is.
Having said that, once the audience had given Newsom their attention, it was her job to keep it. Playing a variety of tracks from The Milk-Eyed Wonder, and YS, along with a few new ones, the whole set felt as intimate as if she were playing in your front room (well, almost). Her Sunday morning sleepiness seemed to make her forget a few lines from some of her more well known songs, but with a few brave members of the audience stepping forward to prompt her with the lines, it all helped to achieve that intimate feel.
I have never seen the impossible festival barrier between artist and crowd been broken down so effortlessly and successfully, and I doubt I will again. Very very special.
7. Sigur Ros
Latitude Fesitival, Suffolk, July 2008
I very rarely cry at anything, but witnessing Sigur Ros got my eyes watering. As before, with Joanna Newsom, total respect was given from the crowd towards the band. No one trying to sing in Hopelandic (unless the band asked them too - which they did on a few numbers). No talking. No pushing or shoving. Just the enjoyment of being wrapped up in their wonderful music.
Playing a set that mainly pulled from their albums "Me> Su> i Eyrum Vi> Spilum End" and "Takk..." Highlights included the appearance of a bass band for "Se Lest", front man Jon Thor revealing to the audience how he gets that haunting echo effect at the end of "Sven-g-englar" by singing straight into the pick-ups of his guitar, the whole of "Hafol" a b-side that's one of my personal favourites, and the climactic ending of "Untitled 8 (a.k.a. Popplagio)".
The whole band were very impressive muscicians, often hopping from one instrument to another, swapping places, and whilst remaining completely in sync with one another, with Jon Thor's highly passionate performances steeling the show.
8. Late of the Pier
Heaven, London, November 2008
Loud, sweaty, and drunk (as in I was drunk, not the band - they were tipsy and good). The gig was held within a club night schedule, not a gig schedule, meaning that the band didn't come on until 11:30ish, and the crowd had been dancing all night to a DJ beforehand. It was just one of those really fun nights, with exceptional live music.
9. Bjork
Hammersmith Apollo, London, April 2008
She was amazing. The band were phenomenal. A wanker in the crowd (talking through every song, and harassing certain female members of the audience, refusing to move, behave or consider any other members of the crowd, despite all neighboring audience members voicing their opinions quite clearly towards him) slightly ruining the show.
Moments of extreme enjoyment, mixed with moments of extreme frustration. I don't think I've ever felt so many emotions at one concert.
Should have been a amazing. One man ruined it.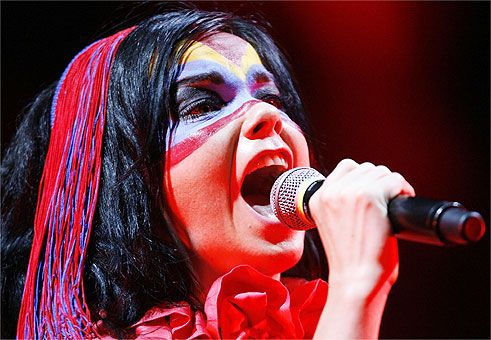 10. Elton John
The O2, London, December 2008
Flamboyant. Camp. Giant inflatables. Boobs. Video appearances from Pamela Anderson and Justin Timberlake. Phallic imagery. David LaChappelle's set design. Amazing songs. Amazing voice. Amazing musicianship. Amazing videos.
Larger than life, and extremely fun.
11. Queens of the Stone Age
Reading Festival, August 2008
The rediscovery of how awesome this band truly are. Highlights include the renditions of "Regular John", "I Think I Lost My Headache", and this amazing version of "Go With The Flow"...
12. Of Montreal
Koko, London October 2008
Well, for a band that's renouned for their mixture of performance art and music, there was plenty of fake blood, giant canary costumes, disco- funk dancing, confetti, dancing Buddas, insane video projections, and a very unexpected cover version of Smells Like Teen Spirit.
However, there was a distinct lack of "The Past Is A Grotesque Animal". Never mind, here's their version of Teen Spirit...
A special mention should go to TV on the Radio who really should have made this list. They are an amazing live band (one of my favourites) but due to bad sound, a short set, and a frustratingly docile crowd (as in immovable) they had to be excluded from the list. A shame when the band were so good, but all the factors that are out of their control were against them.