So, I went to Pride in Brighton on Saturday, and I came across something I totally wasn't expecting. Amongst all the rainbow flags and pink banners I saw some flags that weren't so flamboyant in colour.
It was only on closer inspection I came to the realisation that the "bear" community now have their own pride flag, and this is it...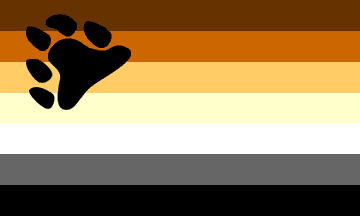 For those of you who don't know what a "bear" is (in regards to homosexuals), here's John Waters with a brief explanation...
... nothing better than John Waters talking about "ultimate nudity" and "blossoms" to gross out your Wednesday morning.
_