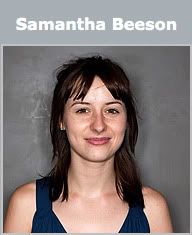 This has been spread ALL around the design community this week.
Samantha Beeson (a recent graduate from Falmouth University) has just become the design community has a new poster child of hatred. Plagiarism in its most extreme; her degree portfolio was found to be created almost entirely from other illustrators work (such as
Lauren Nassef
, but also my friend
Jez Burrows
). Having passed it off as her own, she went on to win a huge award from Textprint for pattern designs filled with Lauren Nassef's drawings. She even made a fake sketchbook with many of Lauren's drawings traced or pasted in.
It is simple cut and paste, and when viewing this girls work against the illustrators she stole from, her actions are just sickening.
I urge you to read more about this subject here...