Eeeeeeee!!!!!!
I was lucky enough to invited onto the set of the Wes Anderson's new animated film
Fantastic Mr Fox
today!
Being a massive Wes Anderson, stop-frame animation and Roald Dahl fan this was like my birthday and Christmas rolled into one (expect with less food and no alcohol).
I can't say too much about it because everything's still very top secret, but the puppets looked amazing, and the level of detail that goes into the set is mind blowing. Every scene that I saw on monitors as I walked around the 20+ animation booths was absolutely beautifully framed. The colour scheme also fits in nicely with its Autumn release date.
The ingenuity of all the crew on set was just mind-boggling.
Animation really is magic.
Unfortunately (and predictably), no photos were allowed on set, so this is all I can show you...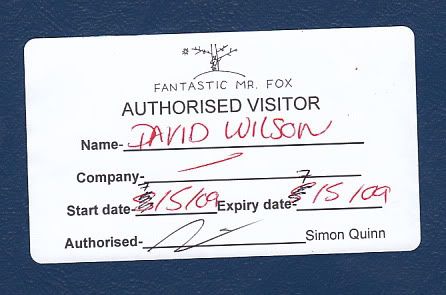 With this, and Spike Jonze's
Where the Wild Things
Are
being scheduled for release on exactly the same day, October 23rd is going to be a busy cinema day!
A BIG thank you to Toby Howell for making this happen.
_